Han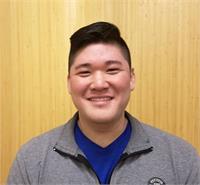 Certified Personal Trainer
Sports Nutrition for Health & Performance
Andrew specializes in strength and high intensity training with functional movements. His passion is in health and fitness; he loves to exercise and enjoys introducing how beneficial it can be to others. He has overcome health conditions with proper nutrition and daily exercise. He loves to help others become educated and motivated to become a better version of themselves.
I believe in athletic bodybuilding, why not have an impressive physique and keep your inner athlete going with fun challenging workouts. I love to play football! I am involved in two flag football leagues and help coach with skill and conditioning training. The most important aspect in health and fitness is to be consistent to create progress. Always remember to keep moving forward and that anything can be done if you set your mind to it.
Graduated from Nyack College for Pastoral Ministry
Certified Personal Trainer by American Council on Exercise A.C.E.
TRX: Certified Suspension Trainer, CPR&AED by American Heart Association
A.C.E. Nutrition Specialist, A.C.E. Orthopedic Specialist next
Seeking to continue my education in physical therapy
Han is currently not instructing any classes.